The Chef Bringing His Global Culinary Experience to Côte D'Ivoire
Chef Rōze Traore is creating an international menu with an Ivorian heart.
IN GASTRO OBSCURA'S Q & A SERIES A Seat at the Table, we speak with people of color who are reclaiming their culinary heritage and shaping today's food culture.
East of Abidjan, the capital city of the nation of Côte D'Ivoire, lies Grand-Bassam, an historic coastal town overlooking the Atlantic Ocean. Once the French colonial capital of the West African country, Grand-Bassam was designated a UNESCO World Heritage Site in 2012.
Rich in tradition, Grand-Bassam has long attracted locals and foreigners alike for its artisanal and artistic scene. But in 2016, the seaside haven was the scene of a terrorist attack, leaving the city in mourning and leading to a sharp decline in visitors. Tourism numbers were still low at the beginning of the Covid-19 pandemic, but as travel is back on the rise, so has the energy of the famed resort town. Grand-Bassam is increasingly a hub for a new generation of artists who hope to breathe new life into the town's cultural heritage.
For chef Rōze Traore, Grand-Bassam is where his journey as a chef has come full-circle. Traore was born in Washington, D.C., but spent part of his childhood in Côte D'Ivoire. Trained at the Le Cordon Bleu College of Culinary Arts in Portland, Oregon, Traore has taken his culinary skills to places like Eleven Madison Park, SoHo House, and, last year, catered for the Guggenheim International Gala. From New York to Paris to London, Traore made a name for himself on the international culinary scene, but still longed to return to his childhood home, the birthplace of his parents.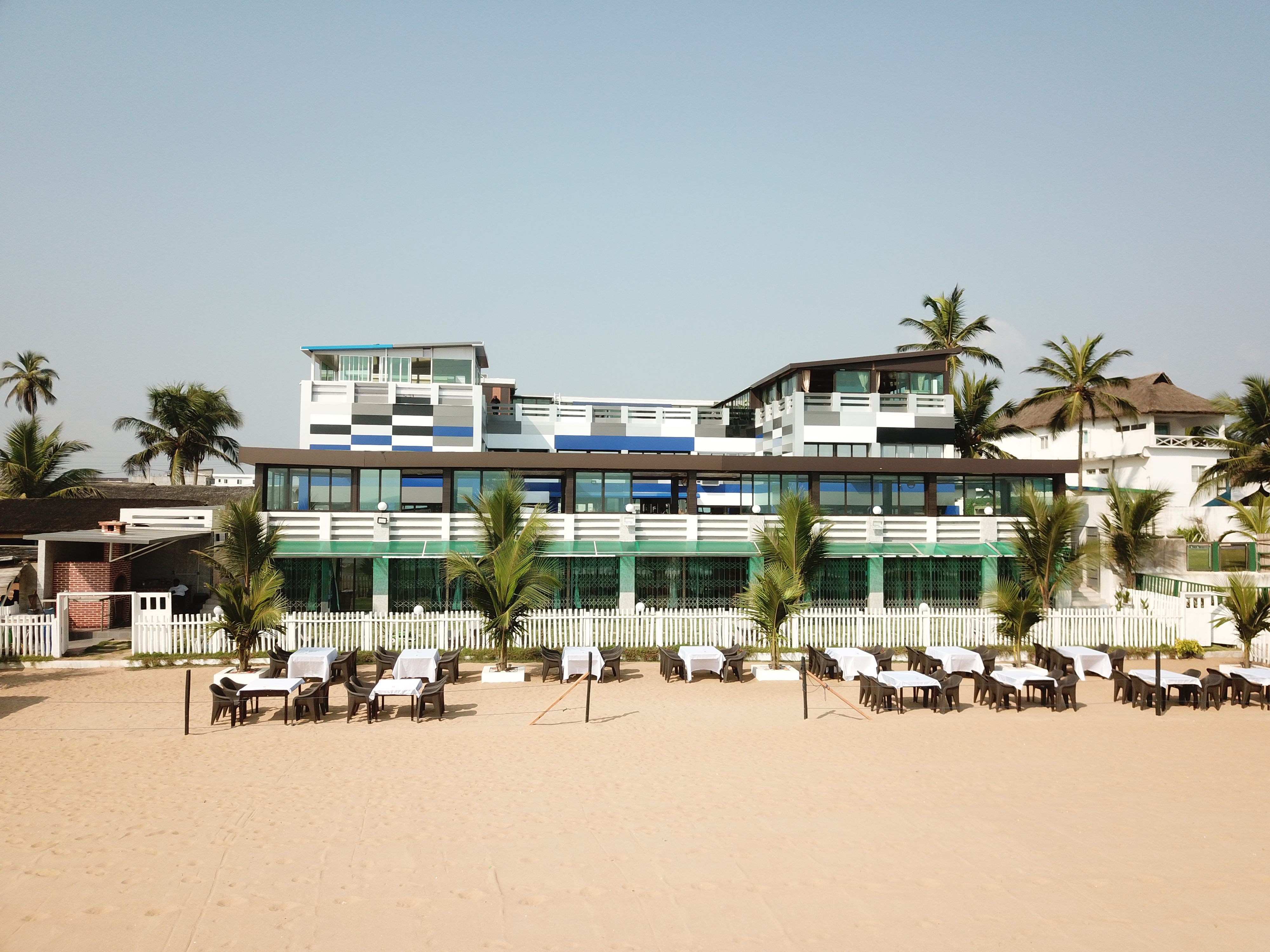 This past January, Traore opened his new hotel and restaurant, La Fourchette de Rōze (Rōze's Fork). A passion project started with his mom, La Fourchette de Rōze combines Ivorian culture, family memories, and Traore's own global culinary experiences. From classic Ivorian and West African dishes such as tchep and yassa au soumara, a chef's menu that includes grilled octopus served with harissa and lamb skewers with za'atar pita and herb yogurt, the menu at La Fourchette de Rōze is an international feast with an Ivorian heart.

Gastro Obscura spoke with Traore about his journey, how his Ivorian roots have influenced his cooking, and how he's incorporating his love for fine dining with Ivorian food culture.
This interview has been condensed and edited for clarity.
Where did your love for cooking begin? What's one of your favorite memories of eating during your childhood?
I think food has always been a part of my journey. During my time in Côte D'Ivoire when I was younger, food was essential, it was all about community.
It was all about getting the best bite when you're sitting down with your cousins and your siblings. It was also something that my dad enjoyed because it was his way of having us understand our culture. He cooked a lot. He was a fisherman, so he would be gone for 3 to 6 months at a time. He would come back and be like, "All right, let's make some food, let's make some peanut sauce." He would always bring back good-quality fish. He was my introduction to food, without even me knowing where it would take me.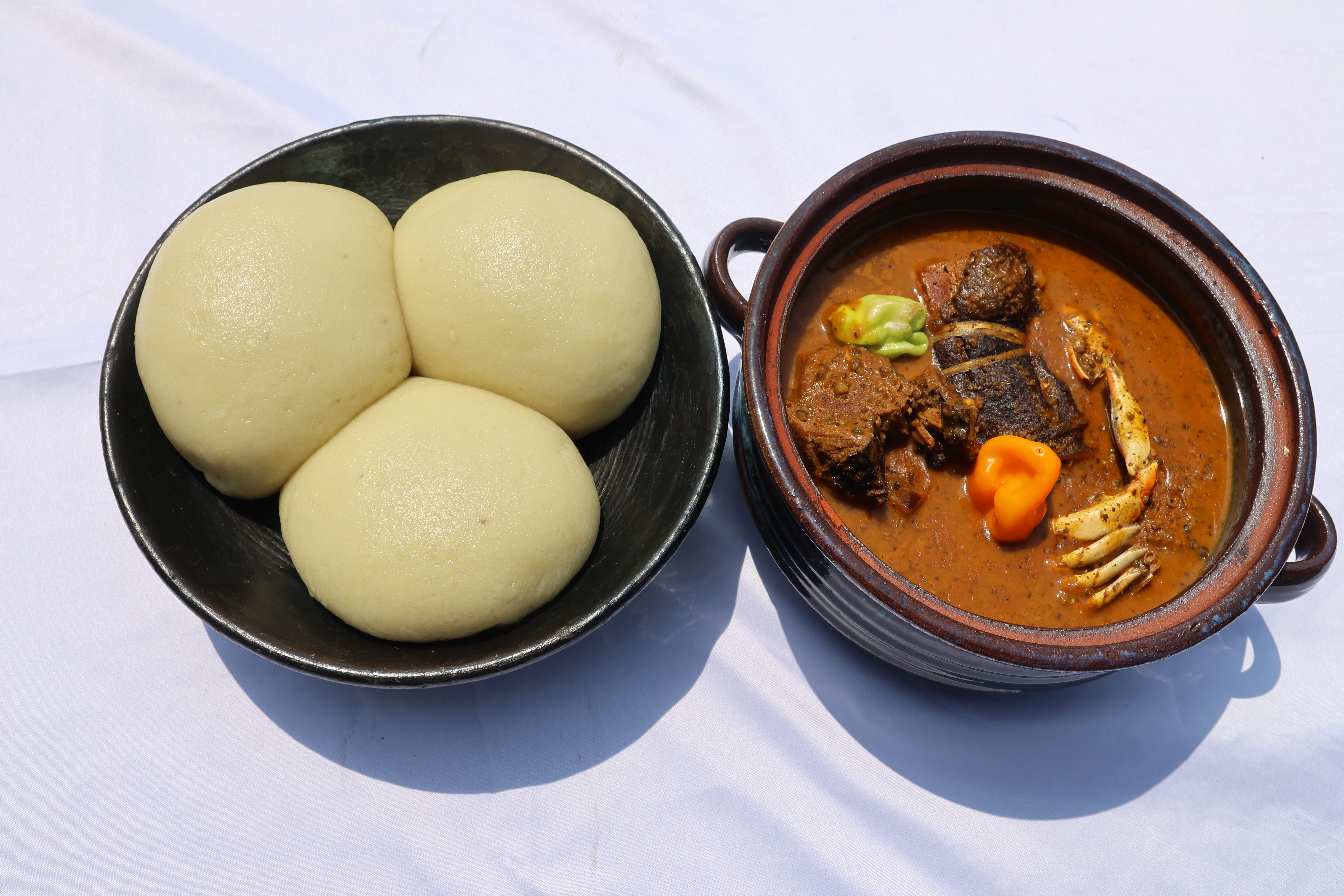 At the age of 18, you packed your things, left home, and went to study at Le Cordon Bleu. What was that experience like? Did you ever feel like you had to compromise the love you had for Ivorian food with the traditional style of fine dining?
I didn't know what I was getting into. There wasn't much expectation, it was more about being told that I needed to go to school for a career so I decided to start [there.]
Just because you go to Le Cordon Bleu, there's nothing promised. You know, more than half of my class are no longer chefs. But I slowly discovered this thing called fine dining and it looked interesting to me.

I was born in Washington D.C. and hadn't been there for at least 10 years so I decided to look up the best restaurants in the area. I was able to do some internships and that's how I slowly got into fine dining.
For me, Ivorian food was more of a calm and cozy thing. I didn't expect it anywhere else aside from home. When I was out there, when I wasn't home, it wasn't the cuisine that I was searching for.
What were some smells and tastes that you particularly missed from Côte D'Ivoire?
I missed the heat. I missed the smoked fish, the grilled meat. More importantly, I missed the spices that are used to elevate a fish or a protein. I missed the way things were being marinated. When you do fine dining, in a way, simplicity is key, you let the dish speak for itself. With Ivorian food, I feel like we understand that. But we still want to include more, make sure everything is marinated well. We want to make sure that no part of the meat is left alone, you know?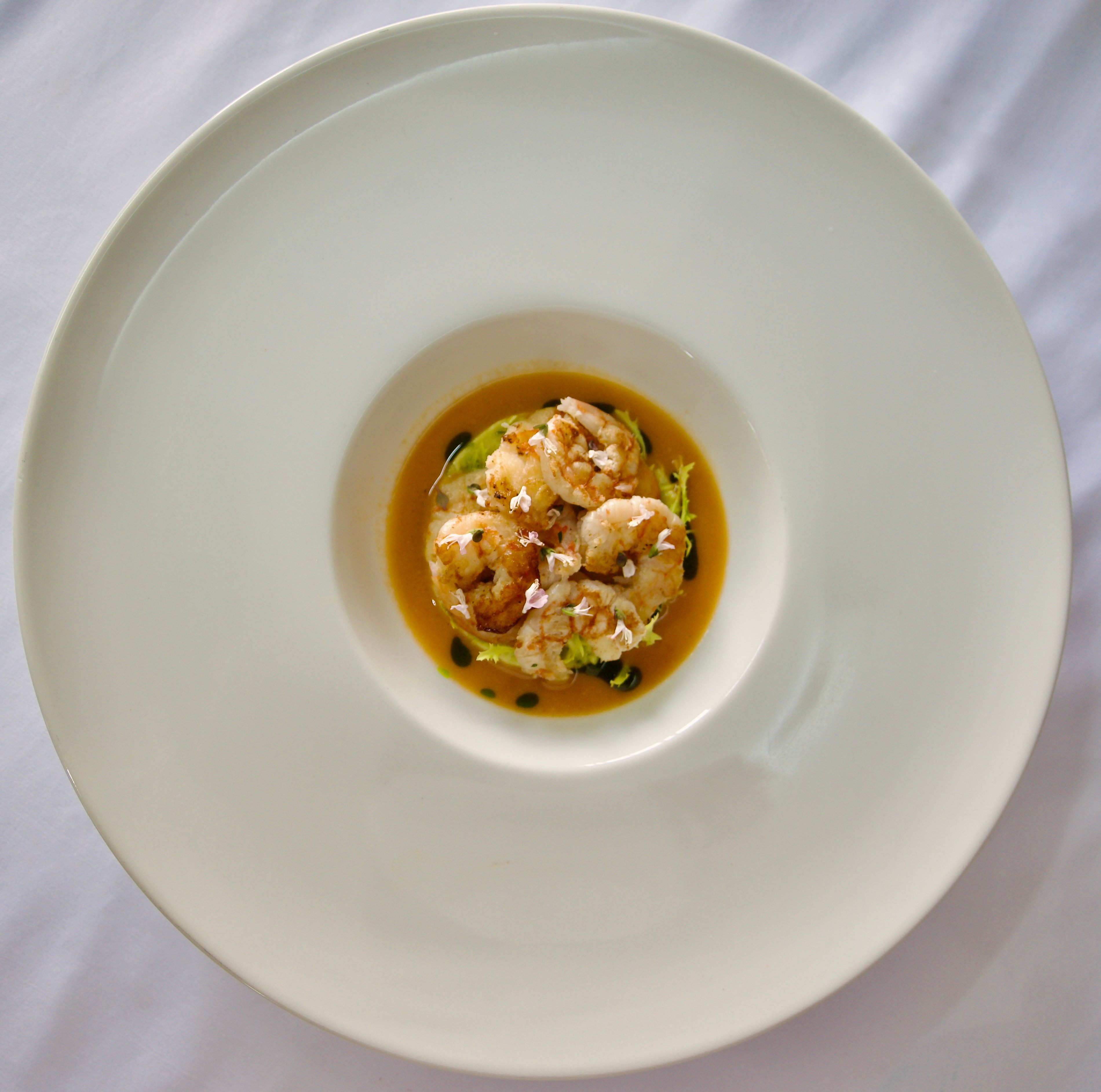 Now, you've taken your skills and experiences back to Côte D'Ivoire, where you've just opened La Fourchette de Rōze. What prompted this decision?
My whole career, I said that I wasn't in a rush to open a restaurant. I went the opposite route, I didn't care about approval from a chef. The traditional route was, you stayed at a restaurant for seven years and then you get approval from the chef who tells you you're good enough to step out on your own.
Fast forward 10 years [since attending Le Cordon Bleu], and I get myself into a place where I have a hotel and two restaurants. But the beautiful thing about it is that I finally found something that feels like a passion project after years of just working.

What I love about [La Fourchette de Rōze] is its identity. It's a representation of not only myself but for my family. It's something I'm able to do with my mom. She and I are putting our magic together and there are so many things that she understands about Ivorian culture.
I want to talk about your cooking style for a bit. You've got fine dining training and experience, and traditionally, West African food was never thought of as being part of that world. How are you meshing them together?
It feels great to bring the knowledge that I have gained from learning from other chefs. I have a whole team in the front and back of the house. My maître d'hôtel is here from New York. I have a friend of mine that I worked with at Eleven Madison Park. He came down here to help set up the system and train employees.

I also came with the mindset that I didn't want certain things to change. I didn't want to take the African food away. I kept that African menu, kept our grill section, because they [the employees] specialize in grilling meat. Then I added my own flare, which is more refined.
For example, I just came up with a sole [fish] dish and I was trying to see how I can represent the Ivory Coast. Then I ran into the African eggplant, and I thought about how fish and leek would be good with that. What else? White wine, butter, that's a purée. Then I added this crispy sole skin, fried shallots, fried capers, blanched potatoes with some aromatics and confit leeks.

I'm able to bring two worlds together and that's beautiful.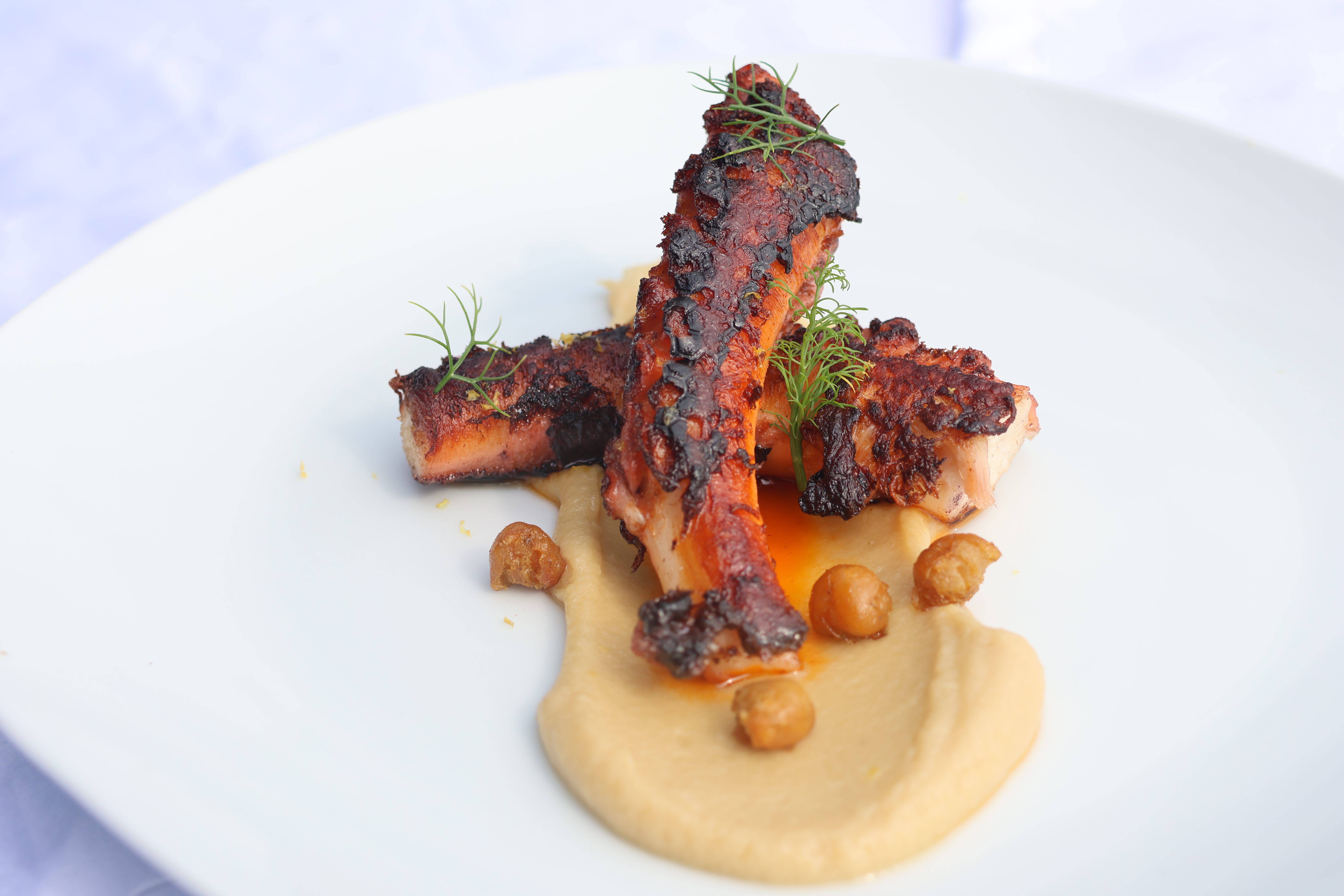 What are your hopes for your restaurant?

I want longevity. I want this place to be my domain and I love being around my family. The reason it's called La Fourchette de Rōze is because it's forked down, this is my place, this is where you can find me.
What's one of your favorite Ivorian dishes, and what do you love about it?

I love the way meat is grilled here. It's called choukouya and you add this spice called kankankan, made of brown peanuts, paprika, cayenne pepper, and it gets served with sautéed onions and peppers. After it's cooked, it's chopped into pieces and wrapped in foil, and then braised for a certain amount of time. It's eventually served with banana leaves, alloco [a classic Ivorian snack made from thinly-sliced plantains or green bananas deep fried in oil], a little bit of pepper sauce, and a little bit of tomato sauce. It's just incredible.
Gastro Obscura covers the world's most wondrous food and drink.
Sign up for our email, delivered twice a week.